Cameras, Mirrors, and Software for Omnidirectional Vision
IT+Robotics commercializes omnidirectional cameras, and provides software packages for omnidirectional image processing. IT+Robotics features a 10-years experience with these innovative omnidirectional cameras. Omnidirectional mirrors are manufactured by the worldwide famous company VStone Ltd, Japan.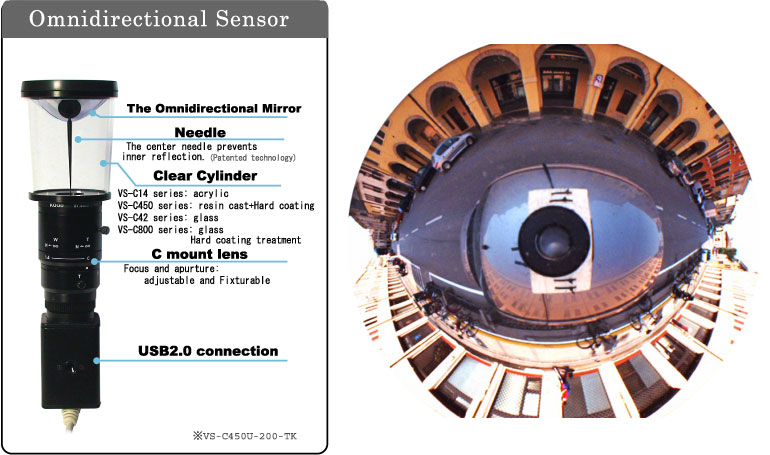 Omnidirectional images include all information about the sensor surroundings in one image. One single omnidirectional image is enough to see 360 degrees around the camera, without the need for moving parts. The distortion removal software by IT+Robotics is able to reconstruct a perspective view in all directions, providing a simultaneous look at the whole area around the sensor, like if several cameras were used, in different directions.
Omnidirectional image processing softwares by IT+Robotics are also able to automatically understand the scenes framed by the omnidirectional cameras.

IT+Robotics provides both standard cameras, as they are manufactured by VStone Ltd., in several configurations, as well as assembled omnidirectional cameras, specifically tailored to meet the customer's needs. IT+Robotics also provides support, and the possibility of designing and assembling omnidirectional mirrors, lenses, and cameras.
Applications:
Video surveillance
Webcams for keeping under control remote locations
Acquisition of indoor images
Pipe inspection
Visit our new e-commerce website for full details and prices.  IT+Rstore